Today, August 10th, is my 35th birthday. I have to say this is the first birthday where I've actually felt "old." I realize the many friends I have who are older than me probably think that is silly, but to me this seems like a real benchmark year. It makes me feel like I should come up with some numbers to quantify my life. Note I'm sticking to things that have numbers here, not listing specific life events unless it is to count them.
Where I've Lived my Life
Of the 12,785 days I've been alive, I've lived in the following states:
| | | |
| --- | --- | --- |
| California* | 7,484 days | 58.537% |
| Texas* | 2,967 days | 23.207% |
| Florida* | 182 days | 1.423% |
| Virginia | 1,957 days | 15.307% |
| North Carolina | 194 days | 1.517% |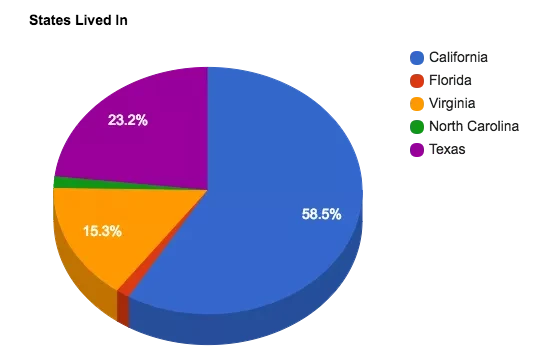 * Note, when I was very young I spent 6 months each in Texas and Florida. Since I do not have the precise move in and out days for those locations, I'm estimating under the assumption that I spent half a year in each location (182 days, giving the extra 1 day back to California). I likely did not spend exactly 182 days in each of Florida and Texas, so the exact number of days for California, Texas and Florida may be slightly off.
By far the longest of these locations is California at 58% of my life, or just under 20 and a half years, followed by Texas at 23% of my life (8.1 years). If you instead split this up into individual segments of time I've lived in individual places, California still wins with this most recent move to California I've been here 3,949 days so far which is more than the total of all of the time spent in Texas across the 3 times I lived there.
What I've Done with My Life
3,948 of those days I've been employed at Justia meaning I've worked for Justia for 30.88% of my life. Prior to that, I worked a variety of jobs for a number of companies, including a stint trying to run my own hosting company for a while.
Slightly longer than I've worked for Justia, 4,058 days or 31.740% of my life, I've been married to my wife Barbara and she has made my life richer and filled it with love these 11 years, 1 month, and 8 days.
What I've Done in My Life
In these 35 years, I've gotten to do or be a part of a lot of great things. I've acted in 2 plays, while working tech for 5 more, and I have at least 2 more planned soon (Fiddler on the Roof is in rehearsals right now and I'll be working sound for it, as well as Avenue Q after that).
I've gotten to attend 2 Stanley Cup final games (once in Chicago, once here in San Jose), 2 World Series Games (both in San Francisco), and a number of playoff games for both the San Francisco Giants and the San Jose Sharks, as well as too many other great non-playoff games to count.
I've gotten to see 12 Broadway musical professional performances (4 in San Francisco, 2 in San Jose, 3 on Broadway in New York, 2 in Las Vegas, and 1 in Chicago). I already have my tickets purchased to see another professional production in November (Aladdin), which will bring the professional production count up to 13, as well as bumping the San Francisco number to 5. Note that 3 of those performances were separate performances of the same play (Wicked), so I've only seen professional performances of 10 distinct musicals.
What has Happened in My Lifetime
There have been 6 US Presidents in my lifetime (Reagan started his first term the year before I was born), 194 of the top 200 movies by domestic box office have been released in my lifetime (E.T., the number 15 on the list, came out 2 months before I was born). If you adjust for inflation, this number goes down to 124.
Other Random Numbers
According to the You're Getting Old site, I've had a total of 630 candles on birthday cakes (assuming I always got a cake with individual year candles on it, which I didn't), the moon has orbited the earth 468 times since I was born, and the population of Earth increased 60.357% from 4,662,143,140 to over 7,476,065,380.
About that Picture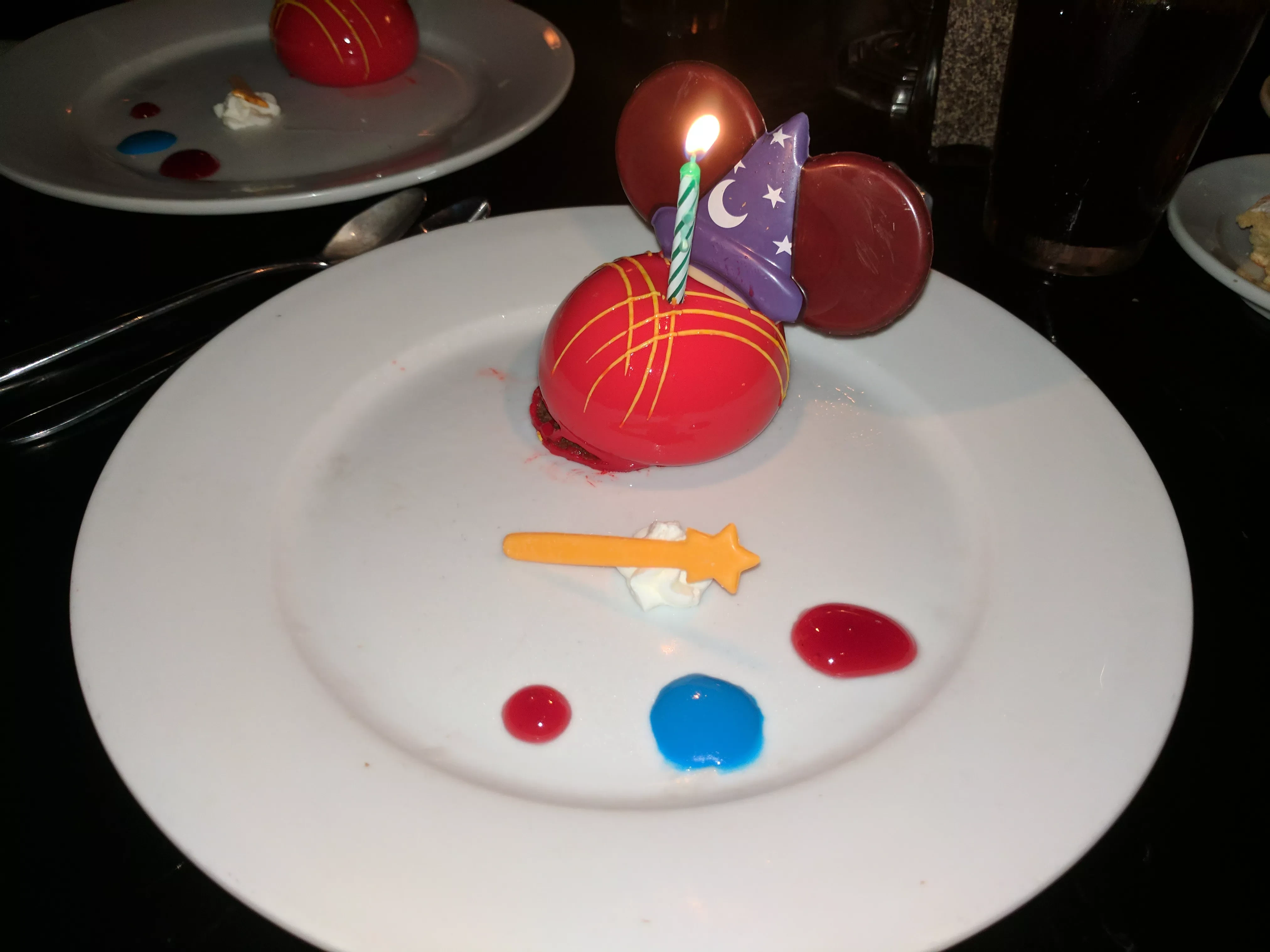 The Featured photo for this post was one of the birthday desserts Disneyland gave me while I was there celebrating last week.  This chocolate mousse was incredibly delicious and it was super cute too.  The dessert itself comes with the Fantasmic Dining Package at the Blue Bayou.  The meal was delicious and the reserved viewing area for people who ate at the Blue Bayou had a fantastic vantage point to watch the newly revamped Fantasmic show.